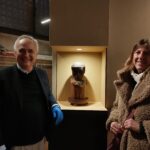 The Museum of Archaeology of the University of Pavia is participating in the Egypt Unveiled Exhibition at the Gothic Palace in Piacenza with the 2 important Egyptian artifacts donated by Eduard Rüppell in 1825: a mummified disemboweled head of a young man, dated by radiocarbon analysis to the 1st century A.D. and a papyrus scroll inscribed in cursive hieroglyphic with excerpts from the Twelfth Hour of the Amduat (the night journey of the Sun in the underworld), dating back to the late 2nd to early 1st millennium B.C.
The exhibition is full of many authentic artifacts from Italy's most important museums which focus on the show of restoration. It opened on December 10, 2022, and will close on February 26, 2023. Organized by the European Institute of Restoration of Ischia in collaboration with the Municipality of Piacenza that allows visitors to see restorers in action inside a state-of-the-art laboratory behind a crystal, as they work on six sarcophagi and four mummy tablets belonging to the Art & History Museum in Brussels: these are finds from the XXI Dynasty, discovered in the 2nd hiding place of Deir el Bahari, a collective tomb in the Valley of the Kings where, around 950 B.C, the priests of the god Amun decided to secure the remains of the most important figures of their caste. The famous site was discovered in Egypt in 1891.
Moreover the University of Pavia has a very unique mummy cover on display in the museum.
The Museum of Archaeology at the University of Pavia will be closed from Monday, December 26 to Thursday, January 5, and will reopen regularly from Monday, Janury 9, 2023, at 2 p.m., but don't forget to visit the exhibition in Piacenza that will be a house for our artifacts!
In the photos: the head of an Egyptian mummy from the Pavia University Museum of Archaeology displayed at the exhibition also took great curiosity in the Honorable Vittorio Sgarbi, Undersecretary of State at the Ministry of Culture. The young man whose identity is not known by us, yet he retains his hair and eyelashes dyed with henna!
The stages of taking the artifacts to the Museum and setting them up in Piacenza with Teodoro Auricchio, president of the European Institute of Restoration and Museum curator Anna Letizia Magrassi Matricardi with their respective assistants Guseppe Mascino, Chiara and Anna Lisa.