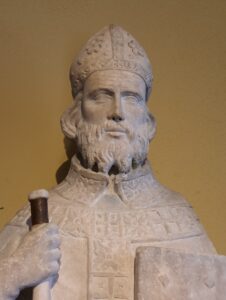 Special opening of the Museum of Archaeology of the Pavia University Museum System:
Saturday 16 September 2023, from 10 a.m. to 6 p.m.
STATUE OF SAINT AUGUSTINE, PROTECTOR OF THE UNIVERSITY OF PAVIA, meeting point in the Museum at 4 p.m.
In the year of the celebrations of the 13th centenary of the translation of St Augustine's relics to Pavia, the Museum of Archaeology of the Pavia Athenaeum Museum System aims to introduce the public to a statue of the saint that is listed among the Museum's exhibits.
Indeed, the Museum's curator Anna Letizia Magrassi Matricardi and Gianpaolo Angelini, professor of Museology at the University's Department of Humanities, will guide the public through the discovery of this 14th-century sculpture attributed to Bonino da Campione.
Actually, Saint Augustine, father and doctor of the Church, is venerated as protector of the University of Pavia together with Saint Catherine of Alexandria. Born in 354 AD in Tagaste, a city in present-day Algeria, he came to Milan and converted to Christianity after meeting St Ambrose and became bishop of Hippo. He was an outstanding poet, rhetorician and philosopher.
Furthermore, Aicha Pasquinelli, a National Civil Service Volunteer, will read passages from his extraordinary autobiography: The Confessions.
In addition, there will be a short reading of a report by restorer Mario Colella from the "Piccolo Chiostro" Study and Conservation Centre in Pavia, who will illustrate the interventions he carried out on the statue.
No booking necessary, info: museo.archeologia@unipv.it
Cost included in the entrance fee.
Address: Central Building of the University, Corso Strada Nuova 65, Pavia, entrance in the passageway between the Cortile delle Magnolie and the Cortile Sforzesco.
Poster: