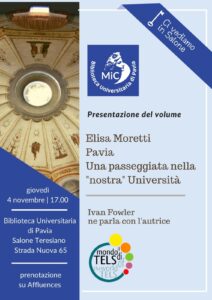 This book also talks about the Museum of Archaeology of the University of Pavia, you can't miss the presentation!
On Thursday 4 November 2021, at 5 p.m., in the Salone Teresiano of the Pavia University Library (Corso Strada Nuova, 65), the bilingual photographic book by Elisa Moretti Pavia. A walk through "our" University. Ivan Fowler, who edited the English translation, will talk to the author.
Many people in Pavia only know the University superficially, although they feel its charm and connection. Cesare Angelini used to say: 'Even the least educated person passing by the University has a sense of the place and its importance and, even if he has never set foot in it, says "our University"'.
Elisa Moretti, a photographer who has worked on many books about the University, realised this and decided to try to bridge the gap between the citizens and the University of Pavia, mainly through images.
The book takes us through the main campus with its libraries and museums, to the Botanical Garden, Palazzo Botta, the Spallanzani Institute with the Kosmos Museum, and then to the Cravino Campus with its museums and research laboratories.
It is a University of today as experienced by students, lecturers and visitors. A photographic journey through the spaces and faces that animate it every day.
Elisa Moretti. Committed to voluntary work, she has produced reportages and photographic exhibitions of solidarity trips to document life in third world countries for non-profit organisations. She has taught courses at the C.S.V. in Pavia, and has produced numerous exhibitions and photo books, the most recent Pavia, silenziosi scatti …dedicati a chi ama osservare (Pavia, Pi-Me, 2016). His images appear in the volumes Almum Studium Papiense Storia dell'Università di Pavia, edited by Dario Mantovani.
Ivan Fowler. Opera singer, composer and storyteller, the Australian Ivan Fowler has lived in Pavia, Italy, for many years. With the Cultural Association Il Mondo di TELS he creates and curates the narrated tours of The Original History Walks® circuit (www.theoriginalhistorywalks.org).
To book on Affluences: https://affluences.com/biblioteca-universitaria-di-pavia-mic