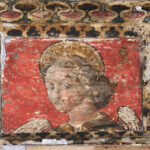 On Friday, December 16, 2022, 5:30 pm, the book Angels. Ceiling tablets from the ancient San Matteo Hospital in Pavia. Sagep publishers
Four restored tablets will also be presented on the occasion.
The Museum of Archaeology is housed in the University's Central Palace, inside a precious architectural container: the heart of the cross vault of the ancient San Matteo Hospital.
The hospital was founded in 1449 with a roof characterized by flat wooden ceilings. Corresponding to the great cross, which once housed the male wards of the Hospital, the ceiling, a metaphor for heaven, was decorated with thousands of busts of angels, one different from the other, to give a heavenly and consoling vision to the sick.
The volume Angels. The ceiling tablets of the ancient San Matteo Hospital, aims to illustrate the project of studying and recovering a still little-known spectacular heritage and elaborating new narrative paths open to all.
The volume, with texts by Maurizio Harari, Anna Letizia Magrassi Matricardi, Renata Crotti, Luisa Giordano, Giacomo Fiocco, Chaehoon Lee, Maurizio Licchelli, Curzio Merlo, Marco Malagodi, Tommaso Rovetta, and Francesca Volpi, is published under the patronage of CeSUP – Center for the History of the University of Pavia, the IRCCS Policlinico San Matteo Foundation, and with the support of the Fondazione Banca del Monte di Lombardia, the Fondazione Comunitaria della Provincia di Pavia, and the Inner Wheel of Pavia.
Thanks to the generosity of the Inner Wheel Club of Pavia and physician Maria Gabriella Ranieri, the Museum also presents the restoration of 4 tablets. Maurizio Licchelli and Marco Malagodi of CISRIC (Centro Interdipartimentale di Studi e Ricerche per la Conservazione del Patrimonio Culturale dell'Università di Pavia) were entrusted with the diagnostic investigation, and Mario Colella, Silvia Marchioron and Elisa Salvini of the Centro Studio e Conservazione Piccolo Chiostro s.r.l. in Pavia were commissioned for the restoration work.
Address: Università dagli Studi di Pavia, Palazzo Centrale, Strada Nuova 65, entrance in the passage between the Cortile delle Magnolie and the Cortile Sforzesco
Angels_locandina
Angels Invitation December 16