Roman republican coins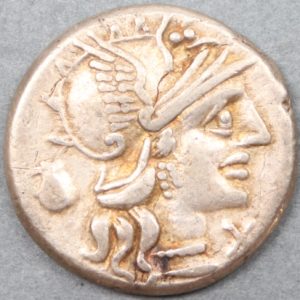 What is a coin? A piece of metal with defined weight, bearing an effigy and a sign which allow identification and the guarantor of the weight and quality of the metal; therefore of the value of the coin itself.
How many hands has this specimen passed through? What did it allow to be bought? Each coin has a fascinating history.
The Archaeological Museum of the University of Pavia is working to enhance its coin cabinet: more specifically, a photographic campaign about Roman republican coins is underway. These objects are rich in iconographic repertoire, which includes the deities dearest to the Romans, scenes from political life and the myth of the foundation of Rome. Iconographic features very rich in meaning can be found on the coins, with a language that expresses itself through simple symbols, easily recognizable by everyone at the time.
The museum's collection of Roman republican coins has already been published in the volume:
The numismatic collection of the University of Pavia, Roman republican coins edited by Alessia C. Bolis, and Celtic coins edited by Ermanno A. Arslan, Cisalpino-Monduzzi, Milan, 2003.
The original photos were taken in black and white; we are now reshooting them in colour.
On the coin in the photo is a silver denarius dated to 137 B.C. On one side is the head of Rome with a winged helmet, surmounted by a griffin with a jug behind it. On the other side is the famous she-wolf breastfeeding the twins Remus and Romulus and, underneath, the so-called ruminal fig. A woodpecker is perched among its branches and alongside it stands the shepherd Faustolo, who found the babies on the banks of the river Tiber and decided to raise them with his wife Acca Larenzia.