Restoration of 93 Archaeology themed albumen photographs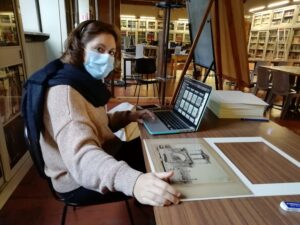 Resilience: this is the magic word that pushes us to progress in our work at the Archaeological Museum of the University of Pavia; behind the scenes, behind closed doors.
The restorer, Chiara Argentino, has returned the 93 photographs which she has worked on.
These are large-format shots of archaeological sites taken for the elite tourism of the age. The images depict Egypt, Greece, Turkey, Lebanon, Italy and Israel and date back to the second half of the nineteenth century. Egg white was used for photographic printing process, hence the name 'albumen'. We hope to make them available to the public soon; we are thinking of setting up an exhibition.
The restoration involved the following steps:
For the types of damage found on the photographs, an intervention was envisaged to secure and restore gaps both in the photograph and in the cardboard support;

Photographic documentation showing the stages before, during and after the intervention;

Dry cleaning of the cardboard support using a handmade duster with a soft-bristle flat brush;

passage by tamponade of the smoke-off sponge rubber on the affected surfaces; passage for the more persistent dirt of the stadler rubber

;

Dry cleaning of photographic film with an electrostatic kabuki brush and, where appropriate, a soft silicone sponge was used;

Paper hygroscopicity test: negative;

PH test: from 3.2-5.9;

Pre-treatment of paper to be deacidified and smoothed with atomized microparticles of hydroalcoholic solution (10-90%);

Deacidification by nebulization of microparticles of calcium propionate at 10% in hydroalcoholic solution (10-90%);

PH verification test: 4-6.2;

Gradual levelling of the cardboard support with atomized microparticles of hydroalcoholic solution (30-70%), with subsequent pressure placed on the affected part, forming an ad-hoc sandwich composed of Remay, absorbent paper and cardboard suitable for conservation;

Where required, consolidation of the cardboard supporting structure with Japanese Shibori paper 632281, 29 g / m2 and Cerestar C * Film 05702 starch;

Chromatic adaptation of the interventions with Winsor & Newton® watercolours, where it was deemed necessary;

Creation of ad-hoc passepartout for optimal conditioning and vision of the albumins with PAT-certified materials suitable for conservation. (Acid-free cardboard pH 8.5-9.5; with alkaline reserve at 3% calcium carbonate, PAT, ISO Standard 18916 and Mylar mask)
Finally, special labels were stuck on the folders in which the albumins are stored: they allow us to immediately identify the content of the folders, thus making their consultation easier.
Albumen photograph: Greece, Athens, temple of Hephaestus, 5th century B.C.