Reading suggestions: "Le memorie del futuro" by Christian Greco and Evelina Christillin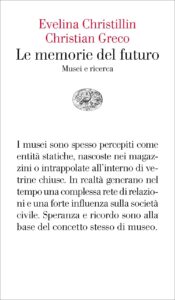 "The Memories of the Future" by Christian Greco and Evelina Christillin, a must-read!
Some time ago, at the Ghislieri College, Maurizio Harari, director of the Museum of Archaeology at the University of Pavia, presented the book and the authors together with Tiziana D'Angelo, recently appointed Director of the Archaeological Park of Paestum, who, like Greco, has a degree in Archaeology from the University of Pavia.
A fundamental concept emerged from the meeting: the museum as a living place of memory in which people must learn to recognise themselves. It was also stressed that the indicators of vitality to qualify the work of a museum should be, in addition to the number of tickets sold, research activities, restoration work and new exhibitions. There is also talk of cultural genocide, a theme that is unfortunately highly topical, bearing in mind all the ongoing wars.
Photo by Pierino Sacchi: Christian Greco, director of the Egyptian Museum in Turin, visiting our museum with Egyptologist Marco De Pietri, restorer Chiara Argentino and curator Anna Letizia Magrassi Matricardi. Greco came to visit our small but precious Egyptian collection which also includes a very rare mummy cover, come and discover it in the Museum!