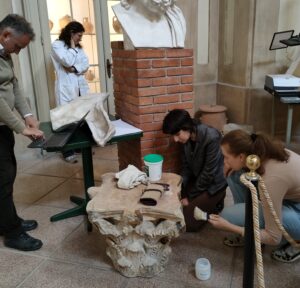 Special opening of the Museum of Archaeology of the Pavia University Museum System:
Saturday 17 June 2023, 10 a.m. – 6 p.m.
Restoration: activities in progress, meeting in the Museum at 4 p.m.
At the end of the seminar "Principles of conservation and restoration of works of art for students of the Master's Degree in History and Valorisation of Cultural Heritage" at the University of Pavia, restorer Prof. Mario Colella will hold a workshop open to all on Saturday 17 June from 4 to 6 p.m. dedicated to Pva gels for cleaning plaster and marble works of art.
The public will be able to attend the workshop and the operations carried out by the students for whom active participation is reserved. These are students of the Master's Degree in History and Valorisation of Cultural Heritage at the University of Pavia and students of the Lombardy Region Restoration Technician course enrolled in the workshop. The theoretical principles of restoration and their practical application in some significant case studies will be briefly touched upon.
During the workshop, Mario Colella and Anna Letizia Magrassi Matricardi, the Museum's curator, will talk about recent restoration work carried out on stone materials, capitals and decorative architectural elements from the Roman era, and on Restoration plaster cast of Greek statues made in the early 20th century.
In the photos: students at two previous seminar events at the Museum and at the FAI's Villa Necchi Campiglio in Milan.
No booking necessary, info: museo.archeologia@unipv.it
Cost included in the entrance fee.
Address: Central Building of the University of Pavia, corso Strada Nuova 65, Pavia, entrance in the passageway between the Cortile delle Magnolie and the Cortile Sforzesco.