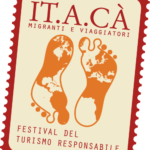 The Museum System of the University of Pavia is taking part in the 2022 edition of the IT.A.CÀ Festival with the "Treasure hunt among the museums of the University of Pavia, travelling through habitats, animals and spaces dedicated to man".
The initiative, scheduled for Saturday 15 October 2022, will be open to seven teams of four people for a total of 28 participants.
The afternoon will begin at 3.00 p.m. in the Central Building of the University of Pavia (Corso Strada Nuova 65) with a meeting point in the Cortile delle Magnolie. The first stops along the route will be the Museum of Archaeology and the University History Museum. Having completed the first stage of the game, players will move on to Piazza Botta to continue their search at the Golgi Museum and the Kosmos Natural History Museum.
The treasure hunt will end at 6 p.m. in Piazza Botta 9, with the prize-giving of the winning team and an award to all participants.
The initiative adheres to the manifesto of IT.A.CÀ, the responsible tourism festival that for years has been inviting people all over Italy to discover places and cultures through itineraries, workshops, seminars, and exhibitions to launch an idea of tourism that is more ethical and respectful of the environment and those who live there. A unique journey through different territories, combining the sustainability of tourism with the wellbeing of citizens. The Treasure Hunt of the Athenaeum Museum System proposes an afternoon in search of objects and artefacts on display in the halls through clues and suggestions that in an entertaining but scientifically grounded way will lead the teams to reach the "treasure".
Free participation. Places are limited, reservation is mandatory (prenotazione.musei@unipv.it or 0382 986220 Tuesday to Sunday 10.00-18.00).
On this day, the Museum will be open continuously from 10 a.m. to 6 p.m.
Target audience: 6 years and over.